Pharma 4.0™
With ever emerging technology the pharma industry is prized to take a giant leap forward. But what exactly is it and how will it shape the future of Pharma?
ISPE and its members are developing a roadmap to introduce Industry 4.0, also called the Smart Factory, to the pharmaceutical industry as Pharma 4.0™.
Mission Statement
We provide practical guidance, embedding regulatory best practices, to accelerate Pharma 4.0™ transformations. Our objective is to enable organizations involved in the product lifecycle to leverage the full potential of digitalization to provide faster innovations for the benefit of patients.

Implementing new industry 4.0-based manufacturing concepts in Pharma 4.0™ requires alignment of expectations, interpretation, and definitions with the pharmaceutical regulations.
While Pharma 4.0™ has been called a new industrial revolution, its implementation will more likely resemble an evolution in which digitalization and automation meet very complex product portfolios and life-cycles. It is therefore important to achieve an accepted understanding of readiness and maturity, starting with additional digital enablers and elements added to the ICH Q10: The Pharmaceutical Quality System along the product lifecycle. It is also important to develop business cases to showcase which industry 4.0 automation and digitalization technologies can be applied to pharma and which implications we are facing due to the increasingly complex regulatory challenges in the pharma and biotech industry.
Digitalization, an important component of Pharma 4.0™, will connect everything, creating new levels of transparency and adaptivity for a digitalized plant floor. This will enable faster decision-making, and provide in-line and in-time control over business, operations, and quality. It will also require higher levels of security, since connected systems heighten vulnerability. Shape
The 12 Theses for
Pharma 4.0™
Pharma 4.0™ extends/describes the Industry 4.0 Operating Model for medicinal products
In difference to common Industry 4.0 approaches, Pharma 4.0™ embeds health regulations best practices.
Pharma 4.0™ breaks silos in organizations by building bridges between industry, regulators and healthcare and all other stakeholders.
For the next Generation Medicinal Products, Pharma 4.0™ is THE enabler and business case.
For the established products, Pharma 4.0™ offers new business cases
Investment calculations for Pharma 4.0™ require innovative approaches for business case calculations.
Prerequisite for Pharma 4.0™ is an established PQS and controlled processes & products.
Pharma 4.0™ is not an IT Project.
The Pharma 4.0™ Operating Model incorporates next to IT also the organizational, cultural, processes & resources aspects.
The Pharma 4.0™ Maturity Model allows aligning the organizations operating model for innovative and established industries, suppliers and contractors to an appropriate desired state.
Pharma 4.0™ is not a must, but a competitive advantage. Missing Pharma 4.0™ might be a business risk.
When moving from blockbusters to niche products and personalized medicines, Pharma 4.0™ offers new ways to look at business cases.
Special Interest Group
ISPE's Pharma 4.0™ Special Interest Group (SIG) has developed an operating model to apply the principles of Industry 4.0 to Pharma 4.0™ which is shown in the image below.
From Industry 4.0 to Pharma 4.0™ Operating Model
Working Groups
Holistic Control Strategy

How to bridge from ICH Q 8, Q 10 and Q 12 to Pharma 4.0
Lead: Nuha al Hafez, Merck KGA & Lothar Hartmann, Phact GmbH

Impact and Maturity Models

How to develop a pharma-specific industry 4.0 model based on ACATECH
Lead: Manuela Gottschall, Roche, Jens Solbacher, Sanofi & Thomas Lee Johnson, Agile Immersive

Process Maps and Critical Thinking

How to develop process and data mapping to digital twins
Emmie Heeren, Propharma Group & Michelle Vuolo, Tulip

Plug and Produce

How to develop machine learning and automation
Lead: Wolfgang Winter, Agilent & Josef Trapl, Takeda
Validation 4.0

The new paradigm of a less complex validation model
Lead: Michelle Vuolo, Tulip & Tony Margetts, Factorytalk

Management Communication Strategy

The elevator pitch for management
Lead: Teresa Minero, LifeBee & David Smaldone, Menarini

Continuous Process Verification & Process Automation

The way to parametric release
Lead: Alicia Tébar, QBD Consulting & Miquel Romero, Almirall

Connected Health

Linking Product quality to Patient outcome
Lead: Nuha Al-Hafez, Merck KGaA & Rebecca Stanbrook, Novartis
Bridging the ISPE Pharma 4.0™ Operating Model with the Sig Working Groups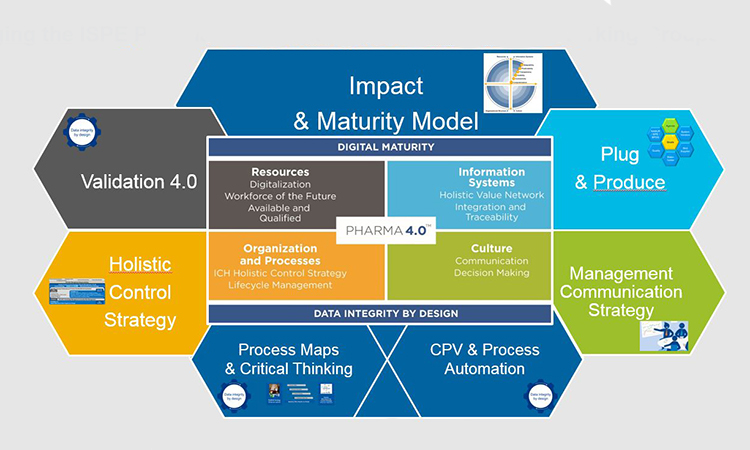 Today ISPE and others offer comprehensive training on Pharma 4.0 and how to implement it into your business. As this seems to be the future roadmap, it would be good for all of us to start familiarizing ourselves with it and figure out how to make it a part of our own companies. With new technology comes new opportunities for jobs and at Westco, we plan on being at the forefront.
I'd like to thank ISPE for their robust knowledge base and options to learn and and master this new development in the industry. Its's going to be an interesting time!